Auggie Doggie's Story: I Was Waiting For You
Mar 29, 2023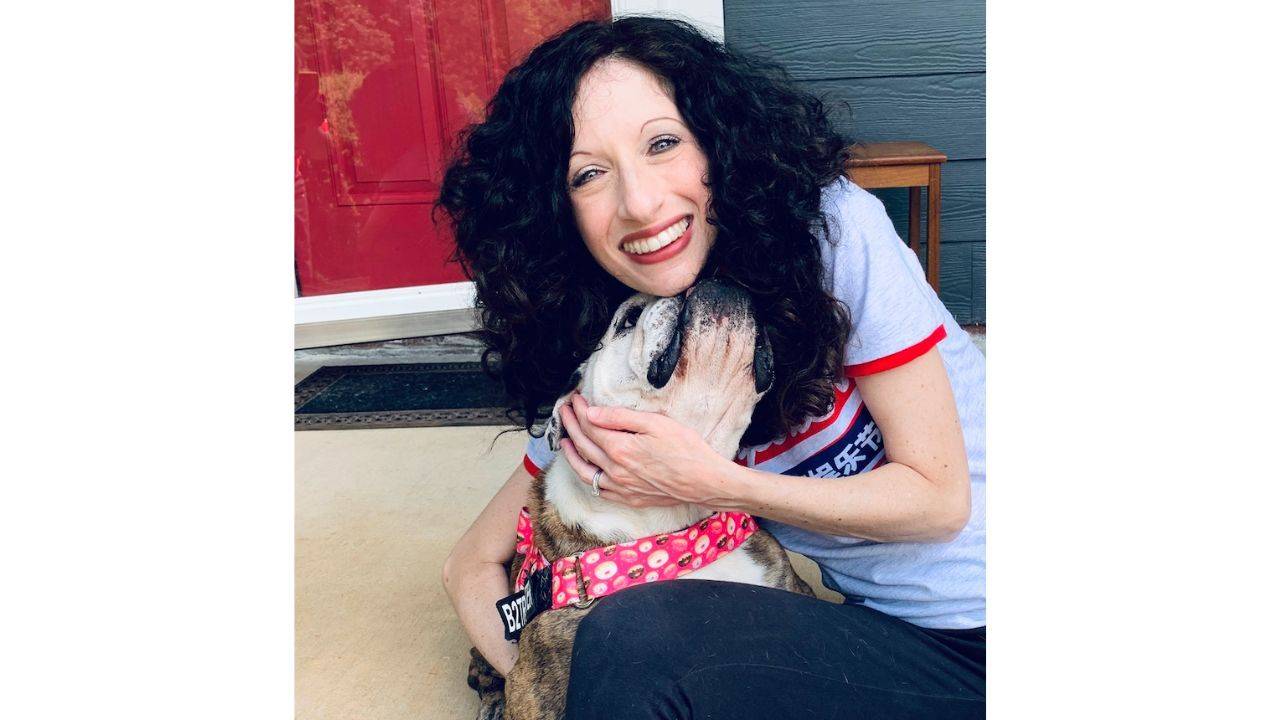 Rescuing a pet in need isn't just a simple act of unconditional goodness towards another being. Why? Often we don't realize this selfless act, while amazing and uplifting, will also put our own vulnerable heart in harm's way. How? We may ache down to our bones as we learn more about what our new family member had to endure before we adopted them. We may know going in that medical bills will be high and life expectancy will be short. The joy and sorrow of pet rescue can seem inseparable. So why do we do it? What makes us so sure rescuing an animal is for us? Auggie Doggie the rescued bully's story highlights what makes rescuing a dog, cat or other shelter pet such a powerful and even life-changing choice.
It was 2020. A sweet dog-loving family had just lost their precious English bully, Puddin. The gaping hole left by Puddin's passing was palpable and getting harder to endure.
Yet their grief was also making it feel challenging for Shelley and Perry to find their next forever dog.
Then one day while talking with a family member Shelley learned about a unique charity called Bullies 2 The Rescue.
"Blown away" - her words - by all this organization does for bulldogs, Shelley felt inspired to apply to rescue a bully pup right away.
If approved, this would be Shelley's first time choosing a rescue dog of her very own.
As usual, the bulldog rescue had a long list of bulldogs waiting for their new forever families. While Shelley and Perry each scrolled through the lists of potential canine rescuees, something interesting began to take shape. When they compared notes, they discovered they were each choosing the same dog!
This pup's rescue name was Skittles. While reading her story, Shelley and Perry learned she was a puppy mill survivor, callously turned out from the only home she had ever known when she was no longer able to breed.
But all the dogs at Bullies 2 The Rescue had heartbreaking stories....so why choose Skittles in particular?
As Shelley later told me, there was "just something about her."
She posted a comment on Bullies 2 The Rescue's Facebook page under Skittles's photo to say she hoped Skittles would still be available when her husband got back from his tour.
A few hours later, Shelley received a text from a woman named Gwyn. Gwyn was fostering Skittles and had seen Shelley's Facebook comment. She sent along an adorable photo with a little note (look left:).
At that point, Shelley told me "her heart melted and I was pretty much done." Even though Perry was still traveling, Shelley felt she couldn't wait to be sure of what her intuition was telling her.
So she hopped in the car solo and drove three hours clear across the state to meet Skittles at her foster family's home.
Skittles, who quickly became "Auggie Doggie," was waiting on the porch to greet Shelley, wriggling and wiggling with excitement and eager to bestow hundreds of welcoming kisses. In the way only two beings who share a soul contract can do, Skittles and Shelley recognized one another instantly.
When Shelley talked with Perry later that same day, she simply said, "I want her."
The next two and a half years were wondrous. And challenging. And, at the end, heart-rending. Auggie Doggie's last three days in particular simply refused to go the way Shelley and Perry had hoped and visioned they would go. At the very end, Auggie Doggie passed naturally in her crate as Shelley was making yet another frantic drive to the emergency vet clinic. And Perry was once again thousands of miles away on tour.
It was at this moment when I met Shelley. She felt stuck in her grief and unable to move forward. She came to me hoping I could reconnect her with Auggie Doggie in spirit.
And she had four specific requests for our session.
First, Shelley wanted to ask Auggie Doggie's forgiveness for how her final "earth day" had unfolded. Next, she wanted to hear about Auggie Doggie's favorite memories of their family life together. She also wanted to know who Auggie Doggie is with now. Most of all, Shelley to know Auggie Doggie was free, out of pain and happy.
When I connected in with Auggie Doggie, the first message I received from this gentle pup was nothing short of shocking. Auggie Doggie showed me an image of her skin literally pulling away from her inner body. I thought to myself, "What happened to this dog?!?" Then I wondered if I should just not mention the image to Shelley at all for fear of making her feelings of guilt and grief even harder to bear (more on this below).*
Next I asked Auggie Doggie who she is with now. She told me she was with an older woman who has a kind round face and short curls and her name was something that started with "B" - Belinda, perhaps? She was also with someone whose name started with "L" - Lucille, possibly? She also said she was with some of her own puppy mill puppies who had passed on before her.
When I asked about Auggie Doggie's final moments, she shared that it was her time, she was ready to go, and while she understood that Shelley and Perry had wanted her death moments to go differently, she had wanted to pass the way it happened - naturally. Auggie Doggie went on to express such tremendous gratitude for this gift of a natural death - to the point where I emphasized to Shelley that "natural death" had been on Auggie Doggie's bucket list as one of her motivations for coming back into a body again.
Auggie Doggie also highlighted something else that Shelley had been too grief-stricken to realize at the time - they had been alone in the car that night, just the two of them, no lab coats, no glaring bright lights, no needles, no pain. It was just the two of them. And Auggie Doggie shared that this was actually perfect and a wonderful way to go.
But Auggie Doggie had even more to say on this topic. She said she also wanted me to tell Shelley that she had felt and fully received the gift of unconditional love that had fueled her humans' desire for her to have a "perfect" death experience. She knew Shelley and Perry had wanted everything to be absolutely perfect. THAT - the intention and the deep soul contract-level love that fueled it - was the most precious of final gifts to their rescued bully pup.
Auggie Doggie then went on to share several particularly sweet and special memories.....
....of rolling over on the grass and other surfaces and freely exposing her belly without any fear.
.....of drinking plenty of fresh clean water and taking big deep breaths of fresh clean air whenever she wanted to.
.....of being able to cuddle with the couple's other dogs and simply enjoy sweet togetherness with no risks or strings attached.
.....of many "little joys" that she showed me strung together like party lights, tiny moments of pure bliss that lit up her rescued life with love.
Next, she specifically instructed me to tell Shelley, "I was waiting for you. YOU made all the rest of it (her puppy mill years) worth going through." The image Auggie Doggie sent me was of a kind of forced march that went on for years and years and years, accompanied by chronic stress and distress and pain and uncertainty. Yet something in her knew that, if she could keep her courage up and just keep on going, a huge reward was waiting.
Shelley and Perry were her reward. And Auggie Doggie felt the reward was absolutely worth all the rest.
When I shared Auggie Doggie's memories, remembrances and messages with Shelley, she was kind enough to fill in some of the blanks for me (I always love it when this happens!).
*Remember the shocking image I mentioned earlier? I was so glad I had the courage to share it once Shelley explained its meaning to me:
The image you had of Auggie pulling away of her outer body, pulling away from her coat: We had been treating her for the past 6 months for some strange skin issues that the vet couldn't figure out. Hair loss and scabbing in certain areas. We tried antibiotics, antifungals, shots, creams, shampoos, etc, but it just wouldn't get better. Her thyroid was low, but we were giving her meds for that and eventually got her thyroid levels to a bit above normal. It was not flank alopecia, it was just bizarre. So you were spot on with this. Wow.
Who was Auggie Doggie with on the spirit side? (Here, I had shared with Shelley up front that while I often do professional pets in spirit animal communication sessions and intuitive interspecies channeling work, I do not yet consider myself a "pet medium" at a professional level, and one of the reasons for this is because often when I ask for names, I only get the first letter of a name right! So I told her to focus on the "B" and "L" letters and see if anything popped into her intuitive space that felt like a fit. This is what Shelley shared with me by way of feedback.)
You said she was with someone with curly gray hair, sweet round face and her name started with the letter "B."
My husband and I immediately thought of his mom, Billie Mae, who passed away a long time ago. Billie was a sweet and amazing woman, everyone loved her and she has a round face. So I'm choosing to believe that is who she is with.
We actually named one of our dogs after her that passed away a couple of years ago and we called her Lillie Mae. I'm not sure about the name Lucille. She had 20 C-Sections (lots of puppies) and I'm happy to think she is with some of the babies she lost.
What about the beautiful memories Auggie Doggie highlighted? Shelley filled me in there as well:
Hydration/De-hydration: Again, spot on. She would just stand in front of the water bowl and drink and drink and drink for minutes at a time. Sometimes, her tongue would come close to the water, but she wasn't drinking. It was just the motion, it was so strange. It was like she got into a daze or something. She did have dementia that came on the last 6 months as well, so we thought it had to do with that.
Laying on her back and shaking: She had terrible arthritis, elbow dysplasia and crepitus and had trouble getting around, but the last 6 months she did lay on her back or would be laying in the dog bed and would spill out of the crate.
It was cute and funny. She did shake like normal pups do, nothing out of the ordinary, but that may have been something when she was younger.
Took big deep breaths: She did that so often. In fact, she blew so much air that her lips would vibrate and make a funny noise. It was one of the things that made her so unique.
Cherishing little joys: This is totally her, it didn't take much. She LOVED to eat and cuddle and sleep and get treats. She would try to trot for any kind of food even though it was tough.
And yes, we knew we wouldn't have a lot of time together when we met, but I was crushed it came on so quickly. I'm just happy to have even been in her life at all. I'll take whatever time I got with her.
What you said about her knowing that something better was coming and she waited for me meant so much. I know she had a terrible life before.
Once she couldn't breed anymore, they kicked her out of the house and a Good Samaritan found her on their doorstep and made sure that she made it to Bullies 2 The Rescue and that is where we met.
She was the sweetest and best pup I've ever had. She never complained ever, she was just happy.
But my favorite thing Shelley shared with me after Auggie Doggie's session has to be this:
My husband had rescued pups in the past, but Auggie was my first rescue and holds a special place in my heart. She opened up an entire new world for me and showed me how rewarding it is to give pups like her a second chance at having the best life possible. Perry and I can't wait to see her again someday, we miss and love her so incredibly much.
Would it help your hurting heart to be able to reconnect with your pet in spirit? Do you have questions only your departed animal companion can answer? I would be honored to assist.
Get a fresh new blog post in your inbox each week PLUS $25 off any session with me!
Zero spam. Unsubscribe anytime.